Events that generate fun with fellow Pantry supporters!
Pantry Palooza
FRIDAY, APRIL 26, 2019 5 - 7 PM

Skyloft, 422 South Coast Highway, Laguna Beach, CA 92651

Happy hour hangout to raise funds for Laguna Food Pantry
Friends, neighbors and supporters are invited to Pantry Palooza, a happy hour of good food, drinks and dancing to the sounds of The Agave Bros. to raise funds for the Laguna Food Pantry!

If you'd like to join our 2020 Pantry Palooza event, please join our newsletter.
---
Stock the Pantry Kitchen Tour
SUNDAY, OCTOBER 14, 2018 1 - 4 PM
Tour from 1 - 3 pm
Followed by Refreshments from 3 - 4 pm
at The Old House (garden) 320 N. Coast Hwy.
Sponsored by the Mike Johnson Group
Peek into the well-appointed kitchens of some of the most beautiful homes in Laguna Beach, most never before opened to the public. This self-guided tour of five homes is brought to you by the Mike Johnson Group and all proceeds will benefit the Laguna Food Pantry and SchoolPower.
Tickets: $50 @ Eventbrite.com
Addresses of homes will be furnished to ticket buyers via email. For more information, please call Sylvia Ames at 949-295-0570.
Purchase tickets here.
---
Come to the Table
We were honored to have as our guest Orange County Supervisor Lisa Bartlett, who presented a proclamation marking our 25th year of serving the community. We are grateful to Chef Alessandro Pirozzi for the incredible spread, Sharon and Roger McErlane for their gracious hospitality, Geoff Glass for the musical entertainment, and the volunteers who helped make the afternoon in the garden so memorable!
---
PantryPalooza
Friday, February 1, 2019 from 5 to 7 p.m.
We will hold our annual high-spirited happy hour dance party, PantryPalooza: Groundhog Eve Edition on Friday, Feb. 1, 2019 at Skyloft. Stay tuned for details!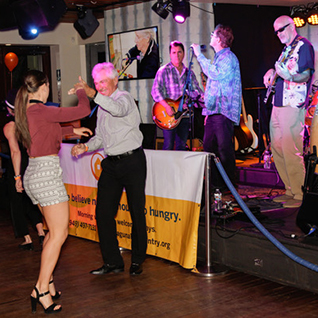 ---
We love our community!
The Penguin Café, a local family-owned institution known for its breakfast, lunch, and delicious pies generously donated a percentage of its total sales to the Laguna Food Pantry and collected food and funds for us. We're so grateful to Sabrina and her team!